24 years' experience in professional IT support
Qualified IT experts supporting hundreds of organisations around the UK
99.4% customer retention rate
AV for Better Business Comms & Powerful Marketing
24+ years of AV System Experience
A solution for every budget
AV design, installation & training
Comprehensive guarantees and after-sales support
Every AV solution for business is bespoke, as no two companies are alike. We can design business AV solutions from basic to top-end, depending on your budget.
We survey your company premises and design the best system to work in your existing space. We work on your current infrastructure. If necessary, we can modify or upgrade your infrastructure so you get the best performance possible from your AV for business.
Our AV Technology Partners
AV Systems for Business Communications
Every design is bespoke and we can provide anything – all you need to do is ask!
Business Meeting Room AV
Meeting Room AV often consists of Smart Board Technology which make it easy for participants to get their ideas across. Large format displays mean everyone at a meeting can see the key information clearly, no matter how big the meeting. We can also provide meeting capture systems so you don't need anyone to take minutes at your meetings: This means meeting room AV helps progressive businesses more productive meetings.
AV Solutions for Business Conferencing
Video conferencing has taken 'more traditional' phone conferencing to the next level, and is especially useful for client meetings or to unite employees who may never meet face to face but need to collaborate effectively. Modern AV solutions facilitate not only business presentations but large-scale virtual conferences with participants spread across the world.
AV for Wireless Presentations
Wireless presentation systems are a clever solution to the messy problem of connecting a plethora of varying devices to shared screens. Wireless means there are no unsightly cables strewn across the desk and you'll have no problems with cables being damaged or going missing. They are easy to retrofit into an existing room as the cabling requirements are much simpler. A key selling point is that they are 'plug and go' meaning there's no need for faffing about trying to connect a laptop to an AV board remotely – although that is an option for those who prefer it!
AV to Boost Your Marketing
Digital Signage
Every digital signage install is different, but the basic AV equipment needed to create a digital signage network consists of a screen, a media player and software. We can advise you on the best screen for the lighting conditions, which is especially important for outdoor screens; the easiest software to work with your other systems; and the right size screen to make an impact without spending too much.
Retail Displays
Retail AV systems function as sales tools or moving advertising, that can maximise use of space as well as drawing the eye to new products, pushing promotions, supplementing floor merchandising and boosting sales. Setting a great atmosphere in a shop can also boost customer mood which is proven to lead to increased sales and improved customer retention. Options include digital signage displays, video walls for advertising, public address systems, and background music systems.
Book a Call
Let's discuss your AV needs
We also provide
Projectors, including Short-throw & Ultra Short-throw projectors
Mobile Projector screens
Televisions
Interactive Flat Panels (IFPs)
Audio visual cabling
Fibre and data cabling
PA Systems – Passive and Active speakers & Amplifiers
Getting Your New Audio Visual System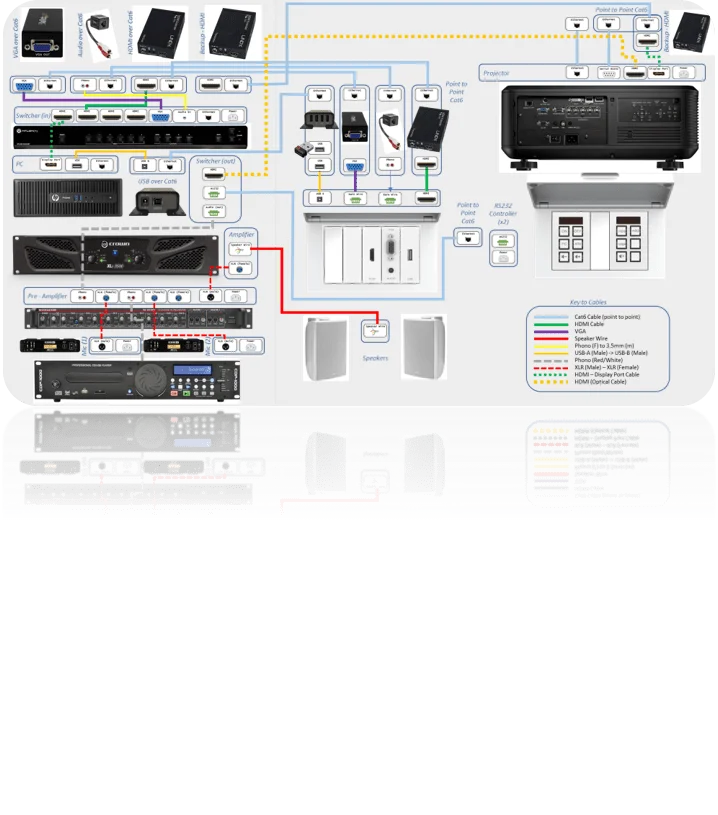 About Flywheel IT Services
Flywheel IT Services has teams of highly qualified and experienced IT engineers and consultants around the UK. For over 24 years we have partnered with businesses, schools and major construction companies to provide IT services and to guide and support their IT projects, tech strategies and day-to-day operations.
Businesses use Flywheel IT Services to fast-track their growth
Children's talents nurtured with the help of Flywheel IT Services
New schools built with sustainable ICT infrastructure designed by us