24 years' experience in professional IT support
Qualified IT experts supporting hundreds of organisations around the UK
99.4% customer retention rate
We have over 20 years' experience providing audio visual systems for schools and colleges to meet every budget. We can identify and design the best solution for your school, and provide installation, user training and ongoing support.
All Our AV Systems are Bespoke
Every Audio Visual (AV) solution we design and deliver is bespoke, as no two schools are alike. We can design any AV system your school needs, from basic to top-end, depending on your budget.
We can design for any space and purpose
We will survey your school, and design the best system to work with your layout and spaces. We've designed for some dual-purpose sports and assembly halls that were a real challenge! But we always create a bespoke system that works, even if it means soldering a protective projector cage from scratch.
We can upgrade your network if necessary
We can work with your current tech infrastructure, or modify and upgrade your network or IT systems. If we think this is necessary to give you the best performance from your AV system, we'll explain why.
How to Buy AV Systems From Us
We work with Crown Commissioning Service and several other government procurement frameworks. Please contact us, and we will be happy to guide you through the Department for Education's recommended procurement process.
If you're not a customer yet
Please book a call using the contact form, and we'll phone you as soon as possible to discuss what you need.
Alternatively call 0121 647 8500.
If you're already a customer
Please speak with your Technical Account Manager.
We Partner with The Market-Leading Providers
Our Range of Audio Visual Systems
This is an overview of our most popular audio-visual systems. We can design and provide anything – all you need to do is ask!
Classroom interactive panels and audio-visual systems
We design and install teaching walls to meet all budgets and needs. These include interactive flat panels, short-throw and ceiling-mounted projectors as well as projection screens. We have partnerships with all the leading manufacturers, so we can supply your school the latest equipment at  very reasonable prices.
Fixed and mobile height-adjustable stands
We provide and install a range of height-adjustable stands which make it easy for you to raise or lower the touchscreen at the push of a button. These systems are perfectly suited to primary schools, and schools with disabled children. We also offer mobile AV solutions which your staff can easily wheel around the school to wherever they need them.
Assembly halls and large space AV systems
These are large screen solutions, with powerful projectors and audio systems. They're designed for community areas such as auditoriums, sports halls, theatres, and mini cinemas.
We offer fully automated designed, which you can use with a simple push of a button. These are a world apart from the old systems that you had to set up through a long series of complicated settings.
We also can install custom security cages which protect the projector. Schools find these particularly useful in sports halls, and other multi-purpose areas where the pupils sometimes play ball games.
Audio visual systems for video conferencing
We design and install video conferencing solutions for all sizes of meeting rooms. We can tailor these to work with your school's preferred software provider, including Teams, Zoom, Skype, Google Meets and more.
Video walls
We provide video walls which include AV solutions for digital signage and projector stitching.
Audio systems
We supply and install a large variety of different types of sound audio systems. These range from whole school PA systems, drama studios and auditoriums down to recording studios and meeting rooms.
Fibre network design and installation
We install fibre networks within your school, if your AV system requires it and you don't already have the necessary infrastructure for your broadband throughout the school. As a company, we specialise in network design for new-build schools and we regularly deliver Department for Education commissioned projects, so you can rest assured that you will be in good hands.
Automated controls for audio visual systems
We provide systems with automated control. You simply push the 'on' button and the control panel will automatically lower the screen, switch on the projector, switch on the AV matrix and allow you to change the input. AV systems don't come simpler to use than this!
This makes them extremely user-friendly, so you don't need remote controls or other devices which are easily misplaced.
Getting Your New Audio Visual System
Example topology, wiring and services elevation diagrams for an assembly hall AV system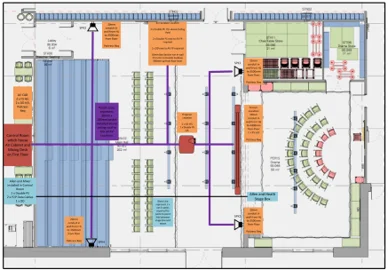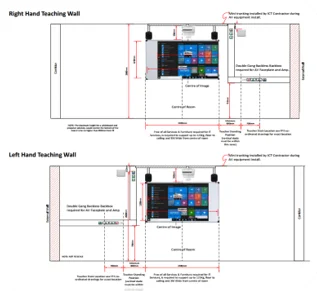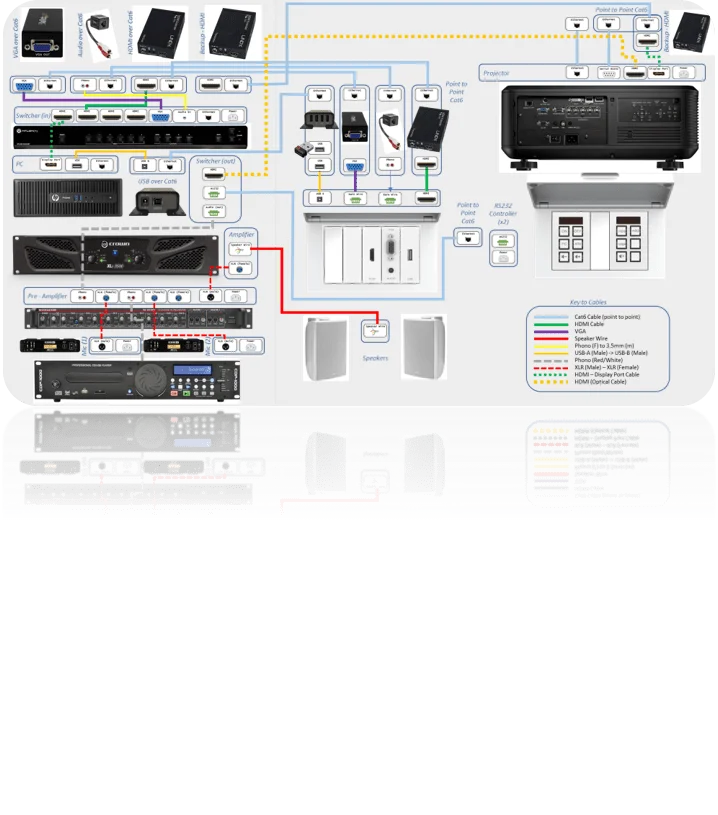 About Flywheel IT Services
Flywheel IT Services has teams of highly qualified and experienced IT engineers and consultants around the UK. For over 24 years we have partnered with businesses, schools and major construction companies to provide IT services and to guide and support their IT projects, tech strategies and day-to-day operations.
Businesses use Flywheel IT Services to fast-track their growth
Children's talents nurtured with the help of Flywheel IT Services
New schools built with sustainable ICT infrastructure designed by us
Some of our previous projects